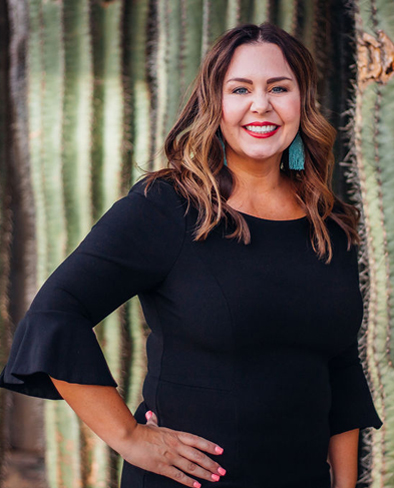 Lyndley Busch, wife, mother and community leader has been involved in real estate in some way, shape or form for two decades. Her past experience in property management, general construction, buying and selling personal and investment properties were the catalyst for adding Realtor as her profession. She also has extensive experience working as a Paralegal, Insurance Agent and Executive Assistant. Her combined education and professional background allows a unique advantage when it comes to her enhanced knowledge and understanding of potential exposures, challenges and complex issues that may arise in the real estate industry.
Lyndley is dedicated and passionate about helping others with their real estate needs. She is native to the Four Corners area of New Mexico. She and her husband relocated to the Valley of the Sun in the blazing hot summer of 2015. She fully understands the challenges posed with relocating with a family, but has since established a strong community connection and has loved the journey. It is her belief that home is truly where the heart is and we all have a story to write and share.
Clients, co-workers and community members will tell you, Lyndley is responsive, organized, detail oriented and has the utmost integrity. She strives to be honest, transparent and has a problem solving approach and mindset. You will find an engaging personality that is relentless when it comes to client satisfaction and positive outcomes. You can count on her to bring those qualities and more into your successful real estate transactions. Lyndley's service in the community and deep understanding of the East Valley amenities and housing market make her the perfect real estate professional and trusted advisor.
When she is not helping clients, Lyndley enjoys spending time with family and friends, cheering on her 4 children playing various sports and attending their performances, traveling to the beach and exploring the beautiful outdoors that Arizona has to offer. Since relocating to the State of Arizona she has enjoyed local hikes, lake days, paddleboarding the Salt River, sporting events, shows and music concerts. Lyndley also enjoys serving as a leader in her church, with an emphasis supporting the youth in her congregation.